Decentralized Ventures: Blockchains Meet Innovative, Smart Businesses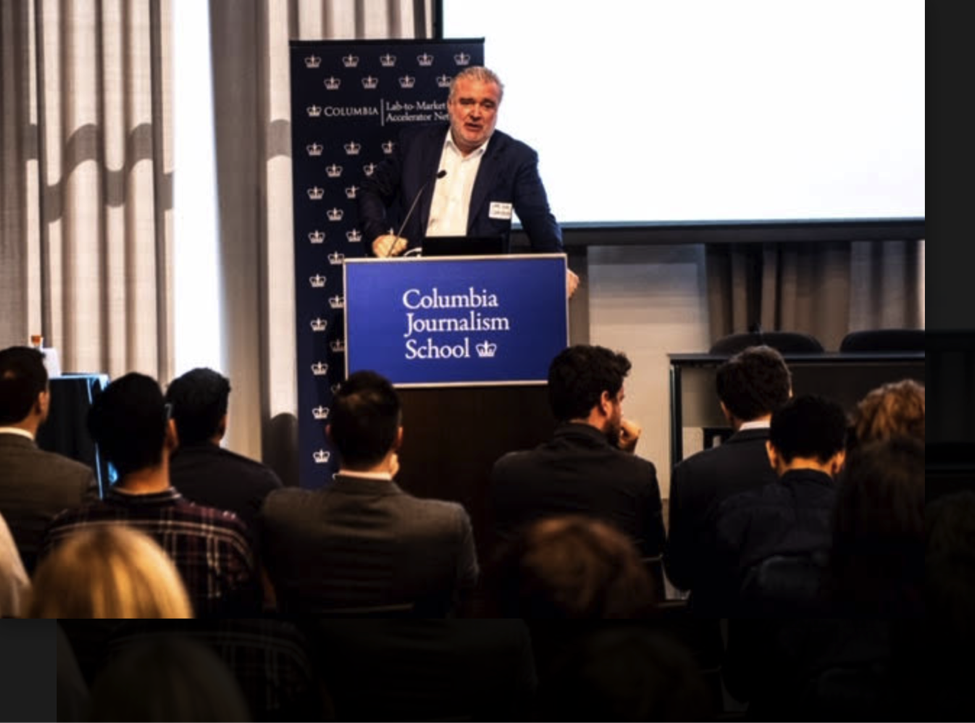 Tokenization, smart contracts, blockchain-based data management: virtually all use-case scenarios of distributed ledgers have been explored by the nine teams mentored under the auspices of the Columbia-IBM Center for Blockchain and Data Transparency. Through its Innovation track, the Center's mission is to encourage cutting-edge business solutions by leveraging emerging technologies. LAUNCH, which is the Center's blockchain startup-focused pre-seed accelerator program, kicked off with its inaugural cohort in January this year and culminated on its demo day in May.
LAUNCH selected its participating teams from a number of applicants, many of whom were unfamiliar with integrating blockchain solutions into their project ideas. Dmytro Pokhylko, head of the Columbia Lab-to-Market (L2M) Accelerator Network that administers LAUNCH, said that over 50 project applications were submitted to the Center in early 2019, which allowed for a selective and diverse allocation of program slots to the finalist nine teams.
Diversity was key since the comprehensive program schedule complemented regular pitch-honing workshop sessions with community events such as happy hours and meetups, as well as educational programs. During lectures and seminars, blockchain project managers form various organizations showcased their products and design ideas, and took questions from an inquisitive and blockchain-savvy audience.
Applicants hailed predominantly from the Columbia business and engineering schools, but also included students from CUNY, the New School, and Rutgers. From advanced level undergrads to doctoral candidates, student participants were expected to develop an MVP or a core business idea around which they could gather a board of advisors and, more importantly, potential investors or customers. Beyond sophisticated product ideas, market viability was key.
As the LAUNCH teams hopped around various New York City venues each Friday morning, the projects galvanized into business ideas and then into business models.
What markets and businesses did the projects tackle? The teams' focus ranged from real estate tokenization (Propshare) and smart contract-based cryptocurrency financialization (Odefi) to produce quality verification (ProducePics), decentralized artistic content licensing (BitRights), genetic data sharing and database management (YouGene), second medical opinion networking (forem), labor and skills allocation in refugee camps (Karvan), street fashion merchandise verification (Dype), and produce supply chain transparency (HonestFarmers).
The connecting tissue between each project was an attempt to leverage some of the inherent affordances of blockchain design. The ingredients? A decentralized network of peers, a set of agreed-on governance protocols, the game theoretical management of distrust, and a number of existing blockchain computing platforms, such as Ethereum, that allowed the creation of either decentralized apps or derivative tokens.
The majority of the projects integrated blockchains as a form of trustless network that could mediate between stakeholders in an environment where participants typically share assets, allocate resources between each other, or audit each others' work. As the diversity of the final project pitches can attest, integrating blockchain into startup development means a sort of hybrid thinking: finding both a market niche but also building the bridges that can connect the stakeholders -- who would otherwise not interact -- surrounding that niche.
Blockchain's multiple promises still have to be tested in most ecosystems. Programming the network and the dapps ("decentralized applications") is a coding problem. Building a business around them that goes beyond simple tokenization, and rallying interested stakeholders and funders to support that business, is what the art of startup design and team-building are about.
One of the teams, YouGene, targeted the lackluster DNA-data sharing environment among hospitals and medical research institutions. How do you incentivize genetic data testing, curation, and database support in the growing market for precision medicine, which relies on the accuracy of patients' DNA-profiles? YouGene, heralded by Roger Hahn, took the core problem of how notoriously difficult it is to monetize digital data, especially when it is so easy to reproduce that same data for free (think of all the media files that are pirated each day). YouGene partnered with the Kiryluk and Gharavi Labs at Columbia University, as well as with Athena Lab, one of the major gene testing and gene profiling institutions, to set up a curated database of genetic data. A blockchain overlay would keep track of curators' work, and allocate royalties to the institutions that provide valuable DNA libraries. YouGene pitches itself as the "iTunes of DNA data" -- an ambitious but somewhat obscure title, which nevertheless conveys the startup's approach to becoming a data arbiter in an increasingly valuable data market.
Blockchains are, of course, not only applicable to building trust and a decentralized governance among medical institutions. They can also be the backbone of a type of social media that connects labor supply and demand in highly specific settings: such as, taking Karvan's case, in refugee camps, which house tens of millions of displaced people every day, indefinitely. Karvan aims to connect refugee-centered NGOs with refugees who possess specialty skills, or refugees with other inhabitants of the same camp. A planned private blockchain supporting the project would serve as a web of trust to identify participants on the network, and also log the time invested by volunteers in working with refugees. In the passionate vision of Karvan CEO and Columbia anthropology graduate Soraya Beheshti, labor time becomes the currency with which skills are traded between participants in what can be seen as, essentially, a barter economy.
A classic use-case scenario of blockchains is metadata logging and content provenance protection. It is an increasingly crowded market into which BitRights, led by Columbia Business School students Chris Robichaud and Charlie Hanna, wants to enter with an all-encompassing package. This Software-as-a-Service is both a marketplace for digital media content and a licensing mechanism undergirded by an Ethereum-based blockchain network that keep tracks of automated licensing agreements and also automatically distributes royalties to content producers. Creators can adjust their licensing packages through an interactive dashboard, and may also gain valuable insights through a simple analytics toolkit, which tracks subscribers and media purchasers.
Two projects have built their business model exclusively on one of the most obvious use cases for blockchain technology: cryptocurrencies. Propshare aims to tokenize real estate investment for non-accredited investors by setting up a streamlined payment method for Ethereum wallet holders. Odefi is building a more sophisticated smart contract scheme to facilitate swaps on top of Ethereum. In other creative projects, HonestFarmers is planning to set up a transparent and traceable supply chain for fresh produce sourced by ethical small farmers. Dype uses blockchains to outsource and democratize street fashion merchandise verification for the streetwear market. Forem aims to connect patients and doctors to obtain affordable second medical opinion for complicated diagnoses, such as for cancer patients. And ProducePics, a father-son initiative, aims to connect computer vision technology with blockchains by helping suppliers and retailers trace perishable produce quality from supplier farms to the supermarket shelves (this means discarding the not-so-informative barcodes in favor of AI-driven image recognition of digital photos that can be taken with mobile phone cameras).
As the teams grapple with the affordances of blockchains and decentralized network governance, one thing becomes reassuringly clear: young and ambitious entrepreneurs are coming to terms with new, alternative ideas on how to tackle the pressing problems of -- and business opportunities in -- bringing together people and ideas, supply and demand, and market niches with much-needed liquid investment, all of which would otherwise not meet or be able to interact. Blockchains can be the platform for entire new businesses -- or just the secret sauce of innovation in more traditionally designed business proposals.
The LAUNCH accelerator's Demo Day was strategically scheduled during NYC Blockchain Week, which ran between May 10-18 at various venues in NYC. That day all nine teams presented their polished pitches to their mentors, investors, and friends. For many, that ten-minute window was a springboard to seed-funding rounds and further mentorship. The CU-IBM Center for Blockchain and Data Transparency will continue to support innovative startups dedicated to solving pervasive issues of trust, security, and opacity in supply chains throughout 2021.